Monthly Website Hosting/Platform Fees

Each time we work with clients on these types of project, we use a hosted web platform to build the websites. The platform that we use (and any hosted web platform) comes with a monthly hosting/platform fee. This will cover everything (other than your domain/URL and email service) that you need to host/build/maintain/update your website.
We will take care of signing you up, we just need you to set up your monthly automatic billing. Before we can complete your project, we will need for you to upgrade your demo account to a paid plan. The monthly fee is dependent upon your level of development package. Please visit the following link and set up your reoccurring billing by clicking on the Paypal button as instructed below:
Micro and Starter Packages: $30 per month
Advanced Packages: $25 per month
Grandfathered Monthly Fees
We are no longer offering annual plans at this time. The choices below will reflect the month-to month equivalent of your current plan. You will be instructed on which plan to choose along with your renewal email. All current plans will still be upgraded to the highest level of platform offerings/functionality. Please let us know if you have any questions.
Grandfathered monthly fees $22 (previously $22 per month or $18 if paid annually)
Grandfathered monthly fees $30 (previously $36 per month or $30 if paid annually)
Top Notch Platform At A Discount Rate!
Your monthly plan will be offered to you by us at a discounted rate and you will be given the highest level of feature set available. Our partnership with SpaceCraft allows us to offer you their top tier monthly platform/hosting plan for $6-$11 off (depending on your development package). Ask how you can get more out of your web development plan and save on your monthly fees.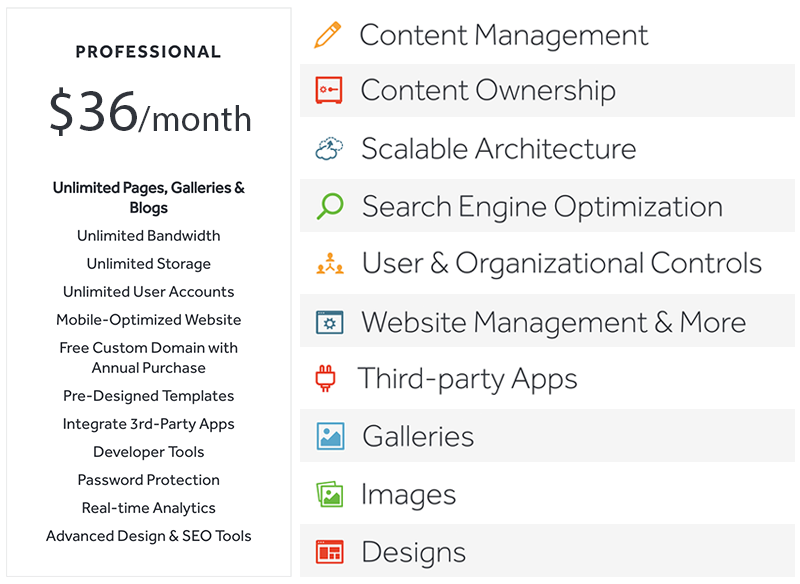 Full List of Platform Features/Functionallity
***After we have finished your project, if you ever want to cancel your website you will need to contact us 30 days before your next billing cycle so that we can cancel your service.
***If you need to update your payment info, you will need to contact us. At this point, we will cancel your monthly subscription charges and have you set it up again (no changes to your plan/website will take place).
***If you fomr some reason miss a payment (canceled card, fail to update payment info, etc), you site will be temporally be shut down. Once new payment arrangements are made and payments are up-to-date, your site will be reactivated.