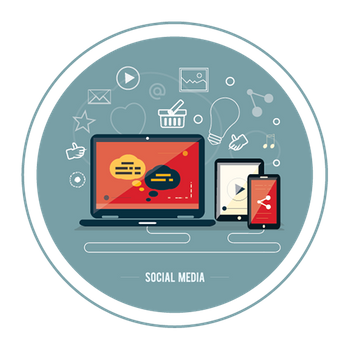 Social Media Marketing (SMM)
What better way of bringing in customer than by making "Friends". Attracting new followers to your social network presence is a great way to create a buzz about your brand. Encouraging them to share your message being the end goal.
As we all know, word of mouth is huge. If I see something cool, I want to share it. Let Third Eye Marketing Solutions help get the word out!
Get by with a little help from your friends!
Most of us have at one time or another been the "new kid at school". Worried that we won't make new friends. Hoping to find at least one person who might share our interests (however oddball they may be).
This is your new business just starting out with SMM (Social Media Marketing). Trying to get your message out there in a sea of likes and tweets, posts and hashtags. How do you get them to notice (and by the right people)? Who is really interested? How do you make that connection?
Then it happens, you find that person that you click with. They just get you! You share similar interests, want to hear what each other has to say and trust each others opinions enough to share them with others.
Word of mouth has been a go to marketing method for centuries. Who do you trust more than a "Friend". The recommendation of someone that you know goes a long way in making you feel secure in your purchasing decisions. SMM is the 3rd most popular way consumers use to research products and make purchasing decisions. If my brother-in-law recommends a new band, I am probably going to give them a listen. Why? Because I trust his opinion.
Facebook, Twitter, Instagram, Google+, the list goes on and on. Too many to choose from to many to manage on your own. Contact Us today and let our team of social media specialists take control of your social media campaign and help you make the friends you need to succeed!
Overall Goals For Our Social Media Services:
Create content
Enhance SEO Ranking
Position your site as an expert in your industry
Activate your niche
Grow fan base
Online Reputation Management
Brand Monitoring